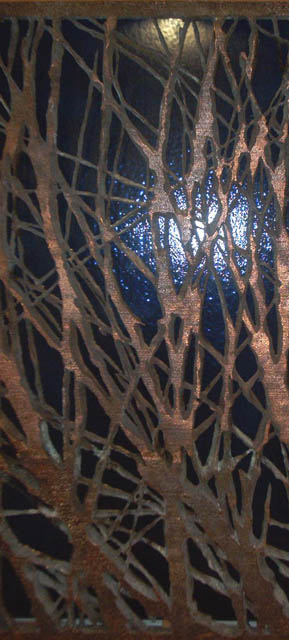 RELIeF for the CREMATORIUM
The commission for a bronze relief in the rear of the aula was undefined. I wanted to express something of the meaning of the events in the aula, without emphasizing too much a symbolic or religeous context.
The pre-Christian spirituality gave me the right images, like i.e. Celtic figurations in which the struggle for life is symbolized by thorny branches in which a person gets captured and of which he has to free himself in order to gain happiness, wisdom or eternal life.
Fairy tales and Myths tell us the same. Think of The Sleeping beauty; The prince needs to withstand all the thorny rose bushes in order to reach his princess. These bushes or labyrinth, have been my starting point for the design of the relief for Winschoten.
Important element is the light coming from behind the open relief. The wall in which the relief is fixed, has been cut open and alighted from the back. A window with frosted blue glass makes the light soft and diffuse, so nothing can be seen that stands behind the wall.
Type of work: Organic form / Relief
Materials: Bronze and Glass
Technique: Cast and inlay
Dimensions (cm): Large H 154 x W 92 x D 4
Realized: 2003
Location: Winschoten (Gr)