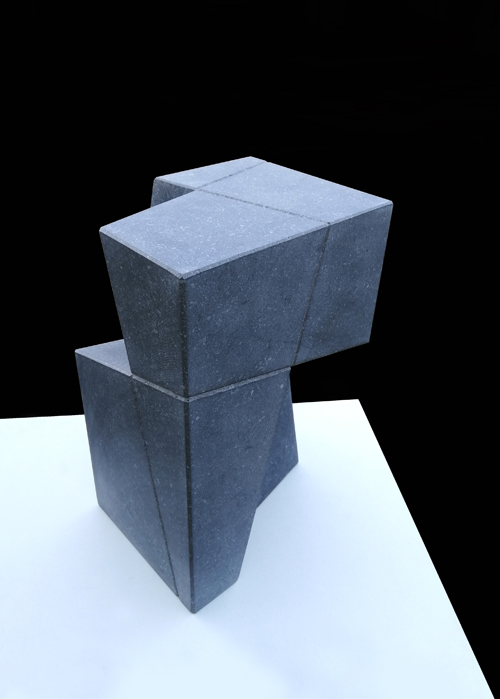 DISAPPEARING-
POINTS
During the DUS-symposia I have worked on two pieces of Belgian Black-limestone.
The theme of the symposia was 'Utrecht-city'. I have translated this into a twin-sculpture, named 'Disappearingpoints'.
Showed at the DUS-group exhibition, Town-hall Utrecht, August 2019
Belgian Black-limestone
40x25x20 cm
2018-2019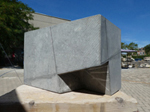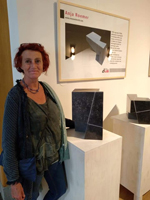 " The theme of the Dus-symposia; the city of Utrecht, has challenged me tot think about what a city means to me. I came up with the aspect of Architecture and shelter. I've always found Architecture intriguing. My father worked in that industry, and as a child I could look endlessly at building-plans that he took home. What fascinates me so much is that buildings clearly have an exterior and interior caracter. The first to recognize and to go around, the second to give shelter. Most buildings you will never enter, they belong to others. Hidden rooms, only suspected, mysterious, intriguing.
My contribution to the symposium is a representation of the idea Architecture; blocks that are massive and piled up, making them appear to shape a larger block, but in reality creating an empty space. The space that gives security. To be there and yet not.
The sculpture consists of óne block that seems cut through in 3 dimensions and in this way suggests to be 8 blocks. Two of those are taken out, the empty spaces touch each other at óne point. Togetherness is near, but not visually.
My sculpture looks a bit like the new City-hall, built by my father's company; an ode to him...."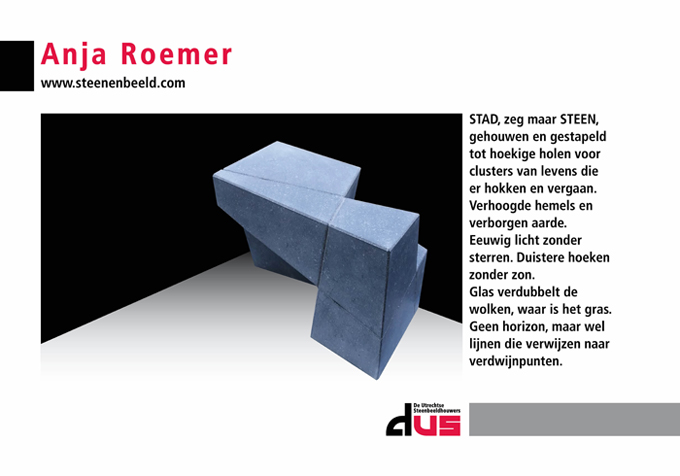 CITY, just say STONE, carved and piled up unto angular caves for clustering lives that breed and perish there. Elevated skies and hidden earth. Eternal light without stars. Dark corners without sunlight. Glass doubles the clouds. Where is the grass? No horizon, only lines that refer to disappearingpoints
Available